About us
Bio-logiX manufactures and distributes natural earth friendly products. No artificial preservatives, hormone disruptors, phthalates, heavy metals or parabens are used in our products.
Our Mission
To grow top quality organic herbs and manufacture products using biologically sound resources. our products are hand made with love and care.
Profile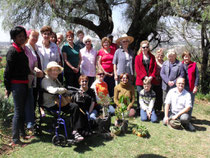 Jeanne Hardy started the Newcastle Herb Society in 1990. Ever since Jeanne was dedicated to a healthier more alternative lifestyle.
Jeanne has completed a two year phytotherapy course, a one year aromatherapy course and a short course on animal communications.
She has passed down her knowledge to her daughter Tara, over the years.
Tara is in charge of manufacturing and selling of Bio-logix products, and through agents and pamper parties.
Tara and Jeanne are dedicated to ensuring that all Bio-logiX products are environment friendly and satisfies the requirements of environmetally and biologically sound practices, including farming and other processes.